DAY 1—MONDAY 12.09.2016, AFTERNOON
Barcelona tour by public ceramics and exhibitions


Every afternoon special tours are arranged to take congress participants to outstanding landmarks of ceramic interest.

Monday 12nd September participants must choose one of the options below.

All visits will be guided by specialists in ceramics in different languages (English, French, Spanish and Catalan).

15:00
Museum of Design of Barcelona – Dhub
Visit the IAC Members Exhibition "Ceramics in architecture and public space"

16:00
Depart from the Design Hub Barcelona (bus)
Routes to museums, exhibitions, buildings and places of ceramic interest in Barcelona

Participants must choose one of the available circuits. Each circuit has assigned a language and the places to visit each day of the meeting.

---
Tour 1

Language: English

Palau de la Música (Music Hall)
Walking tour: Mural The Kiss – Santa Caterina Market – Exhibition UTILMENT (Contemporary ceramics and design at Catalan Crafts Center – CCAM)

Tour 2

Language: English

La Pedrera
Exhibition of members of Ceramists Association of Catalonia

Tour 3

Language: French

Park Güell
Gaudí Experience

Tour 4

Language: Spanish – Catalan

Llotja school of ceramics. Exhibition "Present and future of Catalan ceramics"
Prizes of Ceramics Biennial of El Vendrell at La Farinera del Clot

Tour 4

Language: Spanish – Catalan

Llotja school of ceramics. Exhibition "Present and future of Catalan ceramics"
Prizes of Ceramics Biennial of El Vendrell at La Farinera del Clot

Tour 5

Language: Upon request

Prizes of Ceramics Biennial of El Vendrell at La Farinera del Clot
Llotja school of ceramics. Exhibition "Present and future of Catalan ceramics"

Tour 6

Language: Upon request

Gaudí Experience
Park Güell

Remarks:

The visit to La Pedrera has an additional cost of 15 euros

The circuit 6 will open only when the other circuits have 70% of occupancy
 

---

INFORMATION ABOUT PLACES TO BE VISITED THIS DAY:

Palau de la Música Catalana



1905—Architect: Lluís Domènech i Montaner (1850-1923). Declared World Heritage Site by UNESCO
Visit to ceramic ressources

Palau de la Musica

Park Güell

1900 -1914 – Antoni Gaudí (architect)
A UNESCO World Heritage Site

If there is a work of Gaudí where nature and architecture achieve full identification and surprising, this is undoubtedly the Park Güell in Barcelona. Ceramic achievements of the park are of extraordinary beauty, it is one of the best examples of the famous "trencadís" technique (broken tiles adapting to the round shape of Modernist architecture and typical of Gaudi).

Picasso Museum

Guided visit to special rooms of Picasso ceramics prepared for the IAC Congress, photographs of the author making pottery and posters of his ceramics exhibitions in Vallauris (France).

Picasso Museum, Barcelona

 

Mural The Kiss

2014 – Joan Fontcuberta (photographer) – Ceràmica Cumella (ceramics)

Mural ceramic work made up of 4,000 tiles, each with a single photograph, forming the large mural "The Kiss" of 8 x 3.8 meters, located at Place Isidre Nonell, closed to the Cathedral Square.

Design Museum of Barcelona

The museum, apart from being the main venue of the Congress, will host the IAC Members Exhibition, a major exhibition on ceramics in architecture in the Mediterranean area and the exhibition by Ceràmica Cumella.

Association of Catalan Ceramists—ACC


Exhibition of members of the association

Exhibitions room of the Catalan Association of Ceramists

Craft Centre of Catalonia—Artesania Catalunya


Center of the CCAM (Crafts Consortium) of the Generalitat de Catalunya (Government of Catalonia)

Visit to a special double exhibition for the IAC Congress:
— Contemporary ceramics of Catalonia
— Young Catalan ceramists

Crafts Center of Catalonia, exhibitions room

You will see Gaudí with other eyes. Dive into the world of engineering interactively and 4D technology of Gaudí Experience and discover the mysteries and riddles behind the innovative architectural language of Antoni Gaudí.

1847, remodelled in 2005 by Enric Miralles.
Ceramic Roof by Ceramica Cumella
Special visit for IAC Congress participants.

Centre Cívic La Farinera del Clot

Exhibition of prizes of the International Ceramics Biennial of El Vendrell.

Visit to projects of public art ceramic works and permanent collection, which includes some ceramic works made by Joan Miró.

National Art Museum of Catalonia—MNAC

Permanent collection with ceramic pieces related to the ones that appear in some classical and modern paintings.
Dialogues of contemporary ceramics and classic masterpieces of the museum. Artists to be determined.
Large ceramic mural created by Joan Miró and J. Gardy Artigas.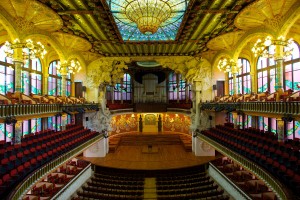 Every afternoon special tours are arranged to take congress participants to outstanding landmarks of ceramic interest.
(read more...)