PRE CONGRESS Route : 9, 10 and 11 September
Visits to Aragon and Valence regions: Mudéjar (Moorish), Aragonese and Valencian ceramics

It is a tradition at IAC's congresses to tour major ceramic points of interest surrounding the country of the Assembly. In keeping with this tradition, we have organized both pre and post-congress routes intended to enrich your experience and appreciation for Spanish ceramic culture and history. These tours are outside of the basic program of the Congress and are paid for separately from congress fees by each participant. All transport, meals and accommodation are included in the fee of each tour (to be determined).

Friday 9th September

09:00
Depart from Barcelona to Zaragoza
(AVE high speed train)

10:30
Zaragoza:

Special exhibitions of contemporary ceramics
of Aragonese artists
Mudéjar (Moorish) art and ceramics in architecture (12th to 16th Centuries)

14:00 
Lunch

16:00 
Depart to Teruel (bus)

18:00
Teruel: Visit to the city and Mudéjar (Moorish) ceramics in architecture

21:00
Dinner. Night in Teruel

Saturday 10th September

09:00
Depart to Valencia

11:00 
Valencia

National Ceramics Museum: Permanent collections
National Ceramics Museum: Special exhibition of IAC Congress 2016 of Contemporary Spanish Ceramics

14:00
Lunch

16:00 
Valencia: Visit ceramics in architecture
and public spaces

21:00
Dinner. Night in Valencia

Sunday 11th September


09.30h
Depart to Manises (bus or tram)

10.00h
Manises.

Ceramics Museum of Manises
Ceramic workshop and ceramics in public spaces

14.00h
Lunch

16.00h
Depart to Valence (bus or tram)

17.00h
Return to Barcelona (Euromed high speed train)

20.00h
Arrival to Barcelona

More information about the pre-congress tour:

Zaragoza
Visit to some of the exhibitions prepared on the occasion of the Congress, visit to the city and architectural monuments of Mudéjar art and contemporary ceramics of ceramists from Aragón.

Teruel
Visit to this city, which is home to some of the finest examples of ceramics in architecture in Mudéjar art. Overnight stay in the city.

Valencia
Visit to the González Martí National Museum of Ceramics and the contemporary ceramics exhibit in the same centre. Visit to the old section of the city and buildings with examples of Modernist ceramics.

Manises
It is one of the most important ceramic centres of Spain, close to Valencia, with a tradition from 14th Century until today.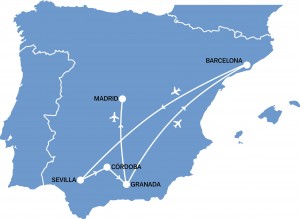 Visite to Seville, Cordoba and Granada: Ceramics in Andalusia and in ancient Islamic art
(read more...)